The Lost Maxwell Cemetery
Workers digging in the Lexington construction site where the former South Hill Station is being converted to condominiums made a disturbing find: very old human remains.
Archeologists have descended upon the Bolivar Street site, and their digging continues to produce more bones. Apparently, they've rediscovered the lost and forgotten Maxwell Cemetery, which originally stood on the site until buildings were unceremoniously erected right over it.
According to the Lexington Herald-Leader, among the persons buried there are John Maxwell, one of Lexington's original founders, and the Rev. Robert Cloud, an "eccentric minister". No wonder South Hill Station was such a miserable failure - obviously the place is cursed, and even if (especially if?) the bodies are moved so that construction of the condos can continue, I certainly wouldn't want to be living in a place with such a high likelihood of unfriendly hauntings. (You can be assured, however, that we'll be visiting the site regularly to watch for such activity.)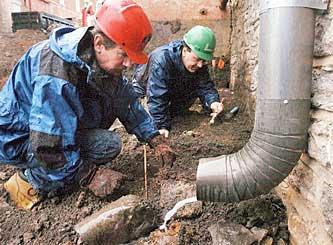 photo by David Perry, borrowed from Kentucky.com.